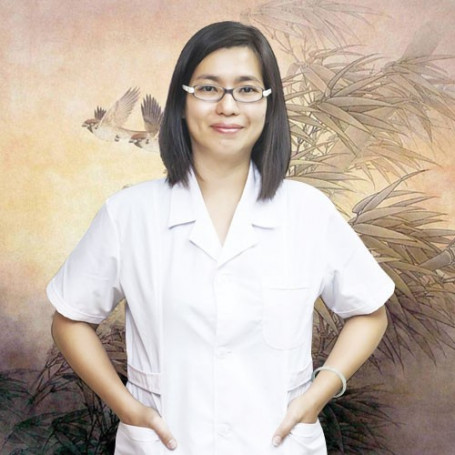 Yee Siew Kien 余秀娟医师
TCM has a long history of Chinese traditional treatment. Thought today there are more advanced technology like modern Western medicine, Chinese medicine and treatment since ancient times until today cannot be replaced.

Pu Jian Chinese Medicine Centre provide variety of Chinese traditional treatment and Chinese medication. We has two experienced physician named TCM Lim Chin Feng and TCM Yee Siew Kein. They have many years of practice experience. Our main services included Internal Disease, Acupuncture, muscles injury, Gynecologic, Pediatrics, Slimming treatment and etc.

Pu Jian Chinese Medicine Centre have a comfortable environment, the design and décor are creating a clean and bright atmosphere in order to emerge warm, calm and peaceful affection and feeling.
Background
Expertise in the treatment of :
We provide services for medical care (Treatment for illness) and health care (Prevention of disease).

Acupunctures
Herbal medicine
Acupotomy
Tuinalogy
Moxibustion
Cupping
slimming

TCM Yee Siew Kein Graduated from the Guangzhou University Of Traditional Chinese Medicine, The Peoples Republic of China. She also is a permanent membership of the Persatuan Tabib Tionghua Malaysia. Besides that, TCM Yee attending physician in more than ten years, specialize in the treatment of Gynecologic, Pediatric diseases, internal diseases (especially gynecological, vaginal discharge, pediatrics, cough, asthma and skin disease.) , Acupotomy Treatment and etc.

1) Internal Disease: cough, asthma, Headaches and Migraines, Gastric, Stroke, skin problem, Allergic rhinitis
2) Acupunctures: muscles injury
3) Gynecology: menstruation vaginal discharge,infertility
4) Pediatrics: poor appetite, allergic disease
5) slimming program
6) geriatrics high blood pressure, high cholesterol, diabetes, joint pain, skin problem, etc.
Specialty
Medicine
Acupuncture
Tui Na/Massage Therapy
Weight Management
Location
Address
Pu Jian Chinese Medicine Centre
10-1,Jalan Puteri 1/5,Bandar Puteri
Puchong
47100 Selangor